07/09/2018
Action-packed biking and cycling adventures, just a stone's-throw from a vibrant city centre, are the specialism of the Capital of the Alps, Innsbruck.
And if you need proof that this awesome city, just two hours' flight from the UK, is a thrill-seeker's paradise, just take a look at the internationally acclaimed sporting events on its calendar this Autumn.
First up are the World Climbing and Paraclimbing Championships (September 6-16) which will see 700 of the globe's finest daredevil climbers face gruelling mountain climbing routes as they challenge for world titles in Lead, Bouldering, Speed and Olympic Combined.  The championships at the Innsbruck Climbing Centre and in the Olympiahalle, are set to play host to 30,000 fans with numerous events and workshops for spectators too. Visit www.innsbruck2018.com for details.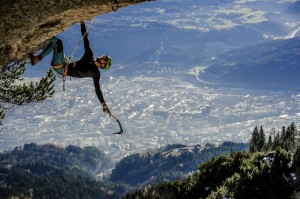 And if you get the climbing bug, the stunning mountains that envelop the Capital of the Alps, such as the Nordkette and Patscherkofel, will provide the perfect backdrop to an adventure holiday.  It takes just a few minutes to get from the city centre to various via ferrata, outdoor climbing parks and climbing centres. For details of Innsbruck's climbing credentials visit www.climbers-city.com/en/
Next on Innsbruck's international sporting calendar is cycling's UCI World Championships from September 22-30 when the world's cycling superstars are put through their paces on the Tyrloean mountains and city centre routes – with each stage finishing in the city.
Innsbruck is proud of its reputation as a premier cycling destination for road biking – making it a great base to explore the region through pedal power, as well as test your mountain biking skills on some of Europe's most challenging trails and bike parks.
For mountain bikers there are 115km of trails to enjoy and test even the most elite riders.  Check out Bike Park Innsbruck – host venue for the international Crankworx tour – with four trails, Pumptrack, Dual Speed, a biking centre and practice areas just on the outskirts of the city centre. Visit www.bikecity-innsbruck.com/en/ for details of the 1-7 day Bike City Card, starting at just 36 Euros, to make access all-areas cycling affordable and fun.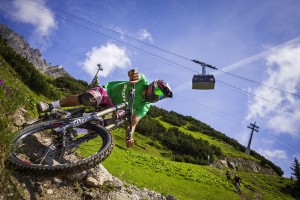 Peter Unsinn, Head of Market Management at Innsbruck Tourism, said: "Innsbruck is in the global sporting spotlight this Autumn as it takes its rightful place on the international tours for both cycling and climbing.  The investment in facilities needed to host World Championships means that sporting enthusiasts are then guaranteed access to unparalleled centres of excellence to develop and test their own skills. For adventure tourists Innsbruck offers the ultimate experience."
There are direct flights to Innsbruck from major UK airports, with the city centre just minutes away.  For more information on the unique sporting opportunities along with the Alpine, urban and imperial attractions of this must-see city, visit http://www.innsbruck.info/en.