10/04/2019
Throughout winter Innsbruck hosts active travellers seeking the thrill of the snow-clad slopes but come spring and summer the Capital of the Alps, and its surrounding villages and valleys, gets its wheels in motion to turn into a biker's paradise.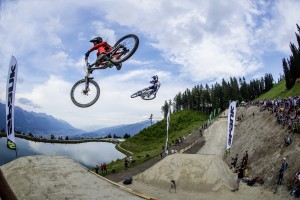 The slopes surrounding the city open up for mountain bikers, with forest tracks and the cable car network taking enthusiasts to a wide-variety of stunning routes.
Opportunities also abound for road cycle enthusiasts, with the chance to get some serious miles under the saddle – and even follow the route of 2018's UCI Road World Championships, including the infamous Höttinger Höll – a hill climb with a grade of up to 28 per cent.
In total, Innsbruck and its surrounding villages and valleys offers 350 km of bicycle paths as well as 115 km of mountain bike trails.
Every need is catered for through specialist hire companies, as well as ski hire centres across the region who change their seasonal offer to supply bikes and equipment to enthusiasts. Many also offer e-bikes for those looking for a gentler experience.
And the traditional hearty fayre served to snow sports enthusiasts from the string of mountain huts dotted across the region, also open their doors to offer cyclists a welcome opportunity to refuel and enjoy some traditional Austrian hospitality.
Here are the top five reasons why Innsbruck is geared up for bike lovers;
It is good enough for the champions – The city boosted its sporting credentials in 2018 by holding one of the most anticipated events in the sporting calendar, the UCI Road World Championships. Plus, Crankworx, one of the world's biggest mountain bike freeriding competitions, will be returning for the third year running in June as part of its three-stop world tour – it will be the only stop in Europe for visitors to see this event.
It is home to Bike Park Innsbruck – Offering diverse trails, ranging from easy to difficult, there is plenty of action with side tracks, jumps, trails and obstacles all with a spectacular alpine backdrop. Bike Park Innsbruck is perfect for any skill level, with a practice area where visitors can polish their skills and a dedicated KidsPark too.
It has got everything covered – The Bike City Card is a visitor's key to biking bliss, allowing access to all the trails, lifts and cable cars in and around Innsbruck with just one card – including Bikepark Innsbruck, Innsbrucker Nordkettenbahnen, the trails at the Elferbahnen gondola lift in the Stubai Valley and Bikepark Tirol in Steinach am Brenner. The Bike City Card is available to buy upon arrival in the city and is valid for seven days thereafter with admission to a different trail area each day. Visit https://www.innsbruck.info/en/biking/bike-city-card.html for details.
It has plenty of bike-friendly hotels – Many of the hotels in Innsbruck and the surrounding villages and valleys cater for the needs of bikers, including secure storage – for when you want to go out and explore the city on foot – washing areas with hoses and brushes, bicycle repair packs, laundry facilities and, most importantly, they serve sports breakfasts to make sure visitors are best prepared for the day ahead.
It caters for all – Whether it's a family holiday or you're only beginners, the city has it covered. Innsbruck has a range of bicycle schools and guides that teach students the necessary riding techniques, plus visitors can arrange guided mountain bike tours with the professionals through the breath-taking scenery of the Capital of the Alps.
Peter Unsinn, Head of Market Management at Innsbruck Tourism, said: "The possibilities in and around Innsbruck for biking enthusiasts are endless, plus we have excellent cycle hire facilities offering all different bikes to suit each visitor's needs.
"But the great thing about Innsbruck is that if visitors want a day off from the saddle there's still plenty to keep them entertained.
"The city has a wealth of history and architecture to explore, plus an extensive shopping scene and café culture too."
The best way to experience all of the attractions in the city is to buy an Innsbruck Card, which gives you free citywide transport and free entry to most attractions.  Visit
https://www.innsbruck.info/en/experience/innsbruck-card.html for details.
There are direct flights to Innsbruck from major UK airports, with the city centre just minutes away.