11/06/2019
Time is running out for applications to a unique summer school, dedicated to creating a dynamic learning environment for individuals to develop their knowledge of sustainable buildings.
The Green.Building.Solutions (GBS) summer university attracts those working in or studying architecture, as well as other construction-related professions.
Taking place in Vienna this year from July 20 to August 11, the programme uses the Austrian capital's world-leading status to provide a live case study in passive house developments and sustainable, smart city expertise.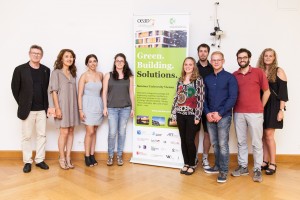 The application deadline for the 2019 programme is June 30.
In 2018, GBS attracted 42 participants from 27 different countries, and with all study and social activities carried out in English, the not-for profit programme is well-suited to participants from the UK and Ireland.
More details about GBS can be found at https://summer-university.net/study-abroad/green-building-solutions-vienna/
GBS, run by OeAD-Housing Office – part of Austria's national agency for international mobility and co-operation in education, science and research – will once again provide a unique opportunity for global collaboration between like-minded individuals.
It includes workshops, lectures, fact-finding visits and the opportunity to gain insight from world-leading academics.
GBS is relevant to students and professionals alike in the fields of architecture and the built environment, including construction management, project management, building engineering and surveying.
Günther Jedliczka, CEO of the OeAD-Housing Office, said: "GBS provides a great opportunity for those taking part to advance their careers and build a global network of colleagues.
"This year we have already attracted participants from around the world. Places are limited to enable us to deliver a high-quality learning experience."
Run in association with eight national partners who contribute to the content, including Vienna's BOKU University of Natural Resources and Life Sciences and the Vienna University of Technology – and supported by a further 21 universities around the world – the course is priced at €2,490 for professionals and €2,000 for students.
This cost includes all social activities, lessons and tours, as well as accommodation for participants throughout the duration of GBS in one of OeAD's passive house student residences – giving an added perspective to participants' experiences in Vienna.
The accommodation is also included as part of the fee for almost a week after the programme, enabling those taking part to explore the city at leisure.
As well as GBS, the OeAD-Housing Office also operates the Alternative Economic and Monetary Systems programme (AEMS).
AEMS analyses how economic, political, monetary and environmental factors need to change to be more sustainable and takes place from July 24 to August 9, 2019.